Archive for the 'Day 19' Category
We awoke early…
Our plans were to cover over 500 miles of the Alaskan Highway before nightfall.
We rode about 20 minutes out of Dawsons Creek before we made a quick pitstop to throw on another layer or two, it was chilly!
I grabbed this shot of Ethan as we prepared to get back on the road.
Before I put the camera up, I surveyed another recent addition to my tail bag… A sticker from one of our block party friends.

A few miles later, we noticed a gas station off to the left, where a lone motorcyclist was parked… He saw us wave and jumped up with two thumbs up, and a giant smile on his face. Ethan and I were stoked, there is such an awesome brotherhood of the road up there, especially between bikers.
It didn't seem very strange, when we were forced to stop, less than an hour later, to throw on all of our rain gear… In fact, after all the rain we'd experienced thus far, it seemed to be hardly more than routine.
"Stop the Rain!"
We'd stopped just before the rain, and as we got our gear ready we watched as the rain made it's way down the road, towards us. Finally splashing down around us, as we got back on the bikes and pressed on into the storm.
15 minutes later, we were on the other side of the cell, and riding in blue skies.
The winds were extremely heavy, leaving us slightly deaf, and really fatigued… Then, as the winds died down, we came to our next adventure…
Gravel.
Over 20 miles of it!
At first, I'll admit that I was scared to death of the stuff, but by the end of this stretch, I had a fairly good idea of how the bike felt on the slippery surface.
At the beginning of the gravel patch, we met a man named Ian, who was riding a Harley up from Southern California. He rode with us for a while after the construction zone, until we stopped in a rare, populated town's A&W for a bite to eat.
Ian is quite the character… A Harley Riding, Adventure Seeking, Ice Skating Coach.
"Ian"
After our lunch, we decided to take off at our own seperate pace, since Ethan and I were able to ride faster, a lot more comfortably.
Throughout the day though, it became obvious that the tale of the Tortoise and the Hare was very, very true… Ethan and I stopped often, for pictures or to stretch, and thus we'd end up seeing Ian on the road a half a dozen times between fuel stops, it was pretty crazy!
About 5 hours ride from where we left, we came to a gorgeous mountain road… The pavement wasn't perfect, but I succeeded in safely getting my knees down for the first time, in British Columbia. At the end of the pass, we stopped, overwhelmed by the beauty that lay before us.
Storm clouds were across the entire horizon, patches of rain fell here and there, and the quality of light, refracting off of wet fir trees was incredible.
Looking back towards the mountain we'd just crossed, you can see where the road way was carved into the hillside near the top.
I even caught Ethan trying to work out a kink.
_____________________________________________________________
With refreshed spirits and sore butts, we got back on the road
and headed West towards the Yukon. After crossing through some
beautiful wooded valleys, and traversing some wicked gravel patches,
our next stop was at a small lodge/ RV park for fuel.
This place is so far out in the bush that all of their electricity seemed
to be slar generated… Too cool!
And yet, the oddest thing happened.
As we filled our bikes, we struck up a conversation with a
lady and her daughter… They were from Oklahoma, and
somehow they'd heard about Ethan and my journey, from
a fellow traveller.
They were really excited to have met us!


(And we enjoyed our 3.5 minutes of fame lol)
A few miles further down the road, a car passed us going the other direction and flashing their headlights wildly. We immediately slowed to a crawl as we crested the next hill and were greeted by the sight of some "natives" a few hundred yards away.
I waved Ethan to a stop, jumped off the bike and grabbed my camera out of the tail bag. As we rode by, I started snapping pictures…
The "Locals"
The View Through My Lens:
Of course, now that I had my camera out I decided to play the odds and try my hand at riding the Alaskan highway… With just one hand of course, while I snapped nearly 200 pictures in less than a half an hour.
Obviously, I can't post them all, but here are a few of the highlights.
Today we passed the coolest person in the world, her name is Rosie and though we didn't know it at the time she is running around the world! Now I thought riding my motorcycle to Alaska made me cool but she wins hands down. She started on her 50th birthday and is currently (sept 07) almost through Canada.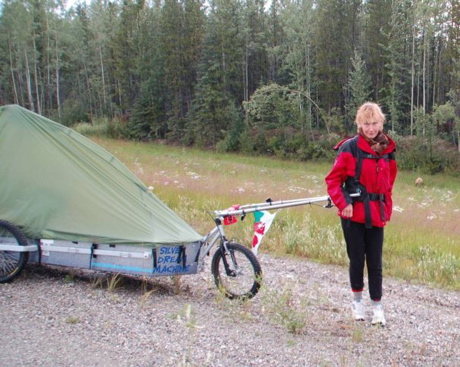 Here she is (pic from her website)
She is going to write a book but in the meantime check out her website.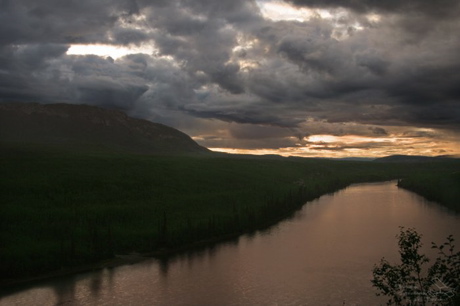 Evening at the Air Force Lodge

After riding all day the and seeing an awesome sunset. It started to rain, so we stopped for the night at the Air Force Lodge. While I was unpacking my motorcycle another bike rolled into the parking lot. I asked the newcomer where he was headed and where he was from. He replied that he was from Pennsylvania headed to Alaska. Talk about coincidence

His name is Jason and he joined us for the rest of our trip through Alaska.
The Air Force lodge was definitely a cool place to stay.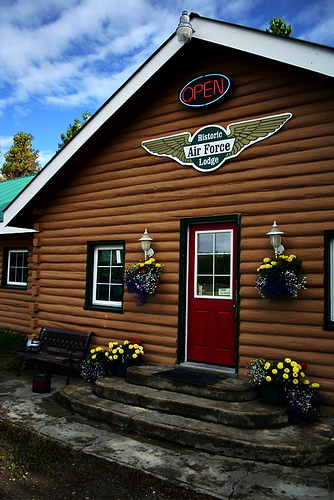 Originally built at the Watson Lake Airport 1942 as a barracks for the pilots flying during Second World War, it was later moved to the town where it stood empty for many years. Then in 1999 the present owners completely and thoroughly refurbished the interior while leaving the exterior structure in its original form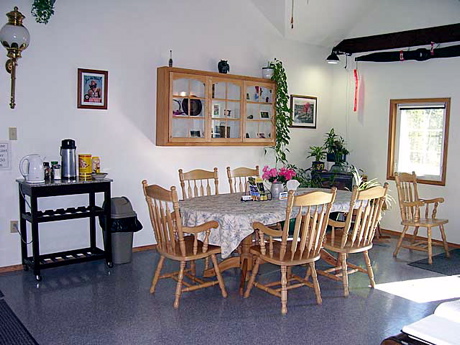 If you are ever in the Watson's lake area in the Yukon, stop in

Comments are off for this post